Top 5 reasons that now is actually the BEST time to sell.
Often in mid-November our advice to our clients who are considering selling is to enjoy the Holidays, take some time to fix up their house, and list their house in the Spring. Something this year has changed in many towns. Buyers are hungry for inventory. Bidding wars are still rampant. Here are the Top 5 reasons that NOW is the time to put your house on the market.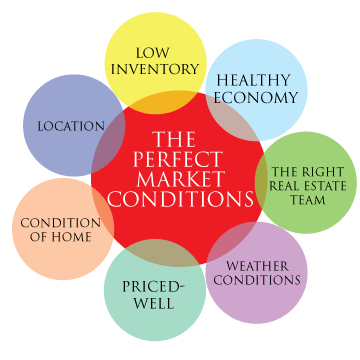 #1: IT IS A SELLER'S MARKET: Yesterday a new client called me about a home in Beverly. The house is adorable with views of the river. It is a small home, renovated modestly, not the most desirable neighborhood (and certainly not the least desirable) and a few years ago it would have been interesting but certainly not the feeding frenzy it was got this week. 24 offers! We can only guess how much over asking it fetched but our guess would be northwards of 20%. And it is happening each and every week. As we know, this sort of climate is not uncommon in Boston. Now we can officially say it has spread to certain neighborhoods in the North Shore.
#2: LOW INVENTORY: Entering in to the Fall Season, according to the North Shore Realtor's Board, inventory was down an astounding 29.4%! Add to that a strong economy, you have a a climate of more buyers looking at fewer house which means higher sales prices. Year over year we are looking at 10% increase but when you hone into certain neighborhoods, those numbers are more like 20-25%.
#3: HEALTHY ECONOMY: With the stock market hitting all time highs and the unemployment hitting all time lows, we know for sure that NOW the economy is healthy. Who knows what the future holds. You can not go wrong capitalizing on this market now.
#4: WEATHER: With unseasonably warm weather in the past 12 months, the market timing has changed and tweeked. There are high numbers of people who did not find the right home or lost in bidding wars in the Spring, Summer and Fall season. Heading in to winter they are still looking. Especially when it is warm.
#5: EVERYONE ELSE WAITS FOR SPRING: If people are looking now and inventory is low, you have the most opportunity now. In the Spring more houses are coming on and you have less of a chance to stand out in the crowd. From baby boomers to millennials, there are still a record breaking amount of buyers desperately looking for a home that they can buy.
With all of this said, this holds true for certain houses in certain neighborhoods at certain prices. We do what is best for our clients. If you are interested in having us access where your home fits in this equation we would love to give you a free value report. No hounding. No obligation. Click here to get started.